Check out the September prize draw for Veggie Lotto!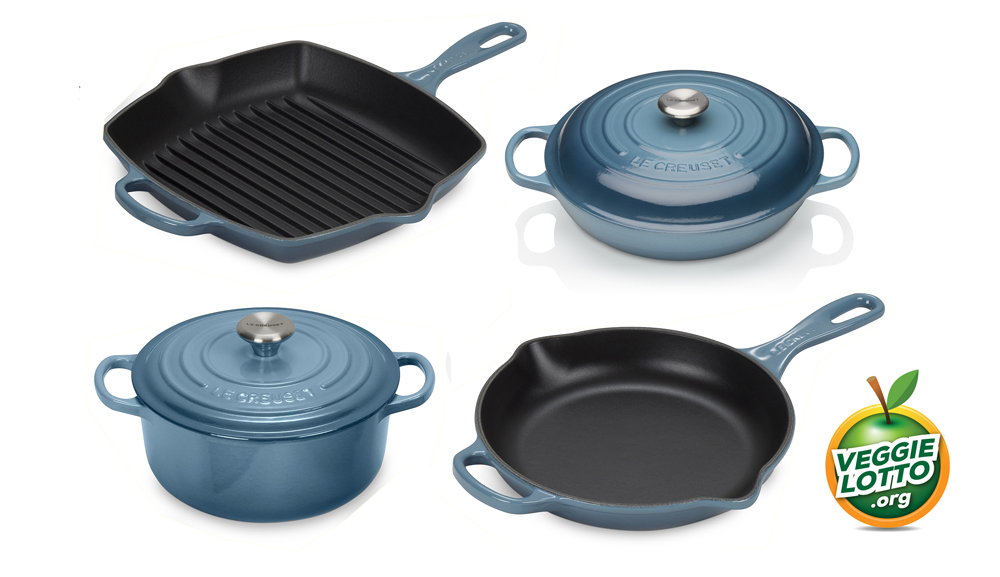 Veggie Lotto has already helped to raise the funds to roll out our biggest grants programme yet for National Vegetarian Week 2018, plaster the London Underground escalators with fantastic posters, and train up dozens of budding new chefs – but we want to do so much more, and we need your help!
That's why for our super-special Veggie Lotto prize draw on Saturday 01 September, we've picked what we think is one of the best prizes yet.
As of Saturday the 14th of July if you get your Veggie Lotto tickets, you will be in with a chance of winning this fabulous Le Creuset set of cast-iron pans which will be drawn on September 1st!
Perfect for executing everything from quick snacks to entire banquets, this amazing prize will raise your culinary game. The prize consists of a 4-piece set: a 2.4L round casserole, a 23cm frying pan, and a 26cm square griddle pan, as well as a shallow casserole dish – a prize worth over £460 in total!
So, help us to do more amazing work by playing Veggie Lotto, and give yourself a chance to get your hands on this awesome prize.
Don't forget, if you match all six numbers you will win the £25,000 jackpot, and there are also seven guaranteed cash prizes to be won each and every week!
Funds raised this year
£57,954.00
2229 tickets of our 2500 ticket goal